Located in Belton, Texas, Belltec Industries has been designing, patenting and producing the world's most efficient drilling equipment for more than two decades. Whether you're drilling through concrete, rock, shale, or compacted soil, Belltec has a solution that will exceed your expectations. And with multiple configurations, Belltec Auger Drives are sure to fit your drilling needs.
Cummings and Bricker distributes Belltec products in Connecticut, Delaware, Indiana, Maine, Maryland, Massachusetts, Michigan, New Hampshire, New Jersey, New York, North Carolina, Ohio, Pennsylvania, Rhode Island, South Carolina, Vermont, Virginia, and West Virginia.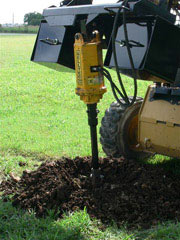 Sorry, there are no videos for Belltec. Check back soon.