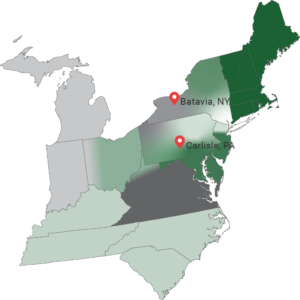 What We Do
Cummings & Bricker, Inc. sells diversified lines of agricultural, construction, forestry, landscape, sportsman and snow equipment through equipment dealers in the Northeastern, Midwestern, and Mid-Atlantic United States.
We work with equipment dealers located in Maine, Vermont, New Hampshire, Connecticut, Massachusetts, Rhode Island, Delaware, New York, Pennsylvania, New Jersey, Michigan, Ohio, Indiana, Maryland, Virginia, West Virginia, Kentucky, Tennessee, North Carolina and South Carolina.
Our team of territory managers, along with a product support specialist, provide in-person attention to our customers throughout the region.
Warehouses are staffed by full-time office, sales, parts, and service personnel who provide personalized service to the customer.
Cummings & Bricker, Inc. bridges the gap between manufacturer and dealer, providing functions which lower distribution costs through warehousing and marketing.
As a family owned and operated business with over 55 years of experience, Cummings & Bricker is held in high regard as a leader in offering quality and innovative products for all seasons.
---
Our History
Harvey J. Cummings starts H.J. Cummings, Inc. specializing in the wholesale distribution of farmstead equipment in Batavia, New York.
Mr. Cummings teams up with Robert M. Bricker to form Cummings and Bricker, Inc. Specializing in feeding, hay handling, irrigation and grain handling systems.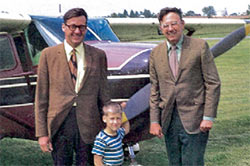 Harvey and Bob purchase the Batavia Turf Farms building on Cedar Street from Sam Peca and Sons.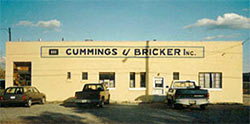 An eventful year. Badger Northland cancels all distributors. Recognizing the advantage of buying power Harvey spearheaded the formation of Cloverline Corporation, a separate company consisting of C&B and three other ex-badger Northland distributors. C&B imports the first rotary tedder by FAHR into the U.S. Gradually adding more product lines and covering more geography C&B joins the Farm Equipment Wholesalers Association (FEWA).
Bob Dempsey is hired. He becomes the "go to guy" for nearly all aspects of day to day operations for many years. Bob becomes a shareholder in the company over a period of years.
Harvey's son Jim joins the sales force.
A second warehouse was built in Carlisle, PA. Located in South Central Pennsylvania at the intersection of two major highways, Carlisle provides easy access to all points in the Northeast, Mid-Atlantic and Mid-Western states.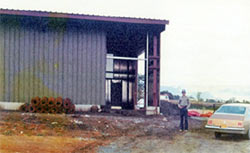 Harvey's son Gene joins the sales force.
Harvey buys out Bob Bricker's shares of the company. Bob retires to Florida.
Purchased a 60,000 sq. ft. building on Lehigh Avenue, Batavia, NY.

Imported the first individual bale wrapper into the U.S. made by Underhaug which was purchased by Kverneland just prior to the first unit being shipped. Several years later C&B would also import the first tractor operated Gray's Tubeline wrapper from Scotland.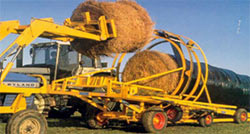 Batavia operations are moved from Cedar Street to Lehigh Avenue after the building is gutted and upgraded to meet the needs of the company.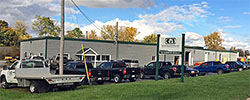 Company ownership is transferred to Jim and Gene. Harvey continues to be present at the Lehigh Avenue warehouse regularly for the rest of his life.
Jim's son Nathan joins the company full time and quickly becomes a key person in the organization. Coverage is expanded to North and South Carolina, Ohio, Indiana, and Michigan.
First C&B Expo is held in Batavia. The event was an unprecedented success. Dealers appreciated the opportunity to view the entire product offering of C&B suppliers and manufacturers appreciated the opportunity to participate in a "dealer only" show.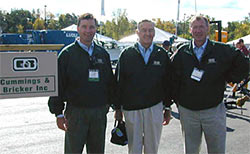 Bob Dempsey retires. His contribution to the company is appreciated by all.
Second C&B EXPO held in Carlisle. Despite near record breaking heat in late September, the event was again a big success. After 45 years in the retail irrigation business, C&B sells the irrigation division to O.A. Newton of Delaware.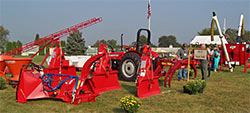 Bob Dempsey unexpectedly passes away. He will be sorely missed by the Cummings and Bricker Family.
Harvey passes away losing the battle to Mesotheleoma, cancer caused by asbestos.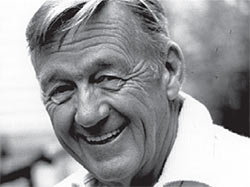 C&B acquires the building next door to the Carlisle, PA warehouse increasing inside storage to 40,000 square feet.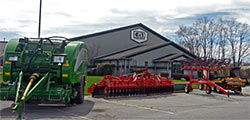 Nathan becomes Vice President and part owner of the company
The company continues to grow with the support and patronage of our customers, strong partnerships with suppliers that produce reliable, quality products, and our dedicated, knowledgeable employees.